Apollo Conveyor Pvt. Ltd. Is the biggest individual sidewall belting manufacture and service of incline and vertical conveying to serve for steel works, mining, power plant, cement plant, harbor terminal and tunneling project, etc. At the most advanced technique.

Benefits Of Using Conveyor Belts
Our computer programme calculates in seconds the most economical solution;
Unique hot vulcanization assembling technique lead the revolution of sidewall belting industry;
International standard product can meet up with the high-end market;

Apollo Conveyor Pvt. Ltd.

service network and efficient services to the customers

Apollo Conveyor Pvt. Ltd.

is a truly worldwide company with belts running in all major industrial sectors in very continent. We have engineered, manufactured and installed belts wherever there has been a requirement.

Reinforcement Material
Complete Sidewall Belt
Range Of Production
Belt width:300-2400mm
Annual production capacity:50000m
Belt strength:250-6000N/mm
Cleat height:35-600mm Capacity range :0-6000m³/h
Vertical lift height: 1-500m
Hot Vulcanization Assembling
Sidewall, cleat and base belt are jointed through twice low-temperature hot vulcanization, which ensures high adhesion value, flatten and no fall off. And the adhesion value won't be influenced by high temperature material.
| | | |
| --- | --- | --- |
| Assembling way | Traditional cold bonding | Hot vulcanization assembling |
| Adhesion Value | 10-12N/mm | 20N/mm |
Product
Cross Rigid Base Belt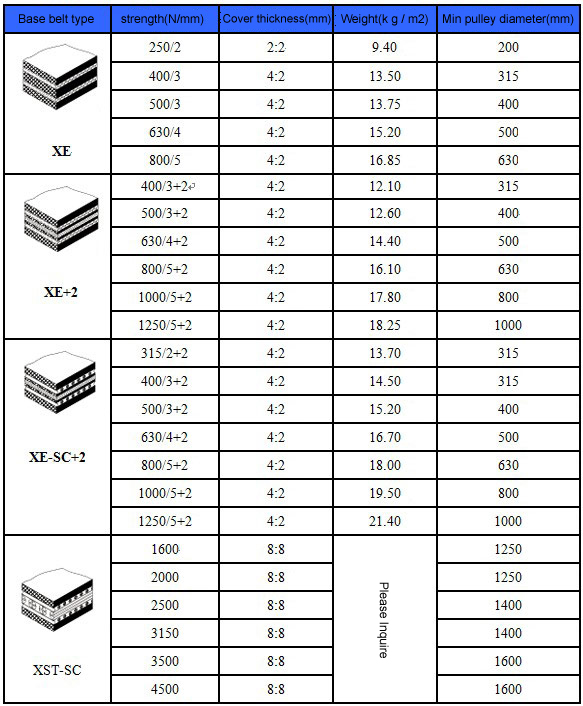 XE:This belt incorporates the cross rigid ply in the tensioning ply, mainly used for medium duty applications.
XE+2:The cross rigid and tensioning plies are separate, in this case the belt has 2 cross-stabilizing plies, application areas are medium to heavy.
XE+SC+2: This belt incorporates textile tensioning plies with steel cord cross rigid members. The high lateral stiffness means the belt can be used in application areas where rigidity is an important factor, i.e. High lift heights and wide belts.
XST-SC: This belt incorporates steel cord tensioning with steel cord cross-stabilizing m,embers. Height tensile strength can be achieved making the belt ideal for high vertical lift applications.
Note: Above are standard belt strength, others available to special order. When the belt strength is over 1250N/mm, XST-SC type base belt is suggested.
Sidewall belts require a certain tensile strength and abrasion resistant ability. For belt with lateral free space, the belt has to have enough cross rigidity transversely and flexibility longitudinally to meet up with the requirement of deflection part of conveyor. The special designed base belt with cross rigidity solved the problem of belt collapse. The belt width are in accordance with the international standard.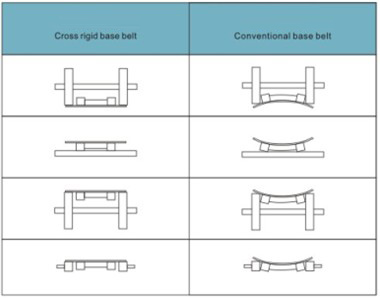 Sidewalls: The Complete Range
Apollo Conveyor Pvt. Ltd. Corrugated Sidewalls represent the latest in design ideas and manufacturing techniques.
The Sidewall design ensures maximum flexing without fatigue,the profile has excellent vertical stability for load retention and return side support.The design allows for high compression to ensure smooth inner deflection around small radii.Another important design feature is that the Sidewalls can be pressed from both sides when mounting, this offers much higher bond strength and security. The fabric insertion is of the diagonal type which gives excellent tear resistance and also allows the Sidewall to flex more easily.
The rubber compounds used have been tested to ensure maximum flexibility along with high abrasion resistant and high tensile strength.
The 'in-house' test conveyor designed and built specifically to test the new range of Global Sidewalls has proved the design and rubber compounds work together in harmony increasing the life of the Sidewall and ensuring maximum durability.
We take creative innovation on the manufacturing technology of corrugated sidewall, based on the usage of it. Fabric insertion is to increase the tear resistant and tensile strength, which increase the lift of the sidewall and ensuring maximum durability. Our special design was patented.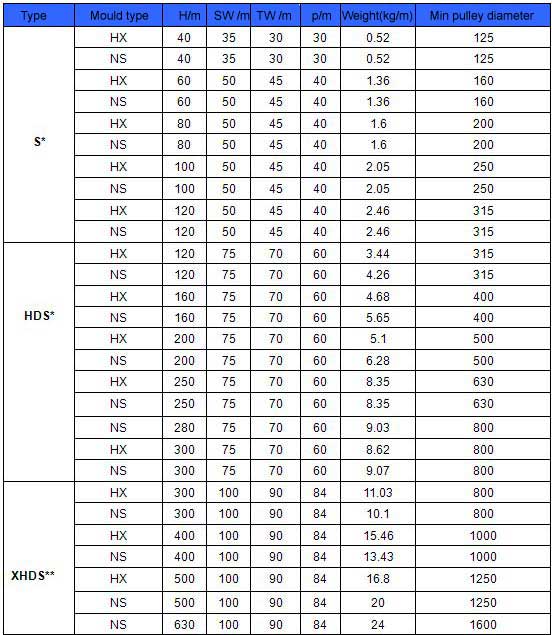 Remarks:
* Fabric reinforced or not
** Fabric reinforced only
Cleat Range
Our cleat is made of special rubber compound, with good features of impact resistant and hardness to avoid cleat distortion.Under high wearing condition,cleat blades can be fixed onto cleat base by screwing for convenient maintenance.
T cleat is normally used up to 40° conveyor angle C,TC and TCS are normally used form 40° to 90°. To avoid material leak from the gap between cleats and sidewalls, the cleats should be positioned to be the right sidewall corrugation for screwing reinforcement.
All Apollo Conveyor Pvt. Ltd. Cleats have been specifically designed to give optimum performance. The shape of the C and TC types have been created to offer best conveying capacities alone with excellent self-cleaning properties. The cleats are taken of the extruded type for the smaller profiles, all large cleats are moulded to give the best shape retention even when conveying high-density materials. Cleats profiles are shipped in non-returnable packing cartons, please refer to the below chart.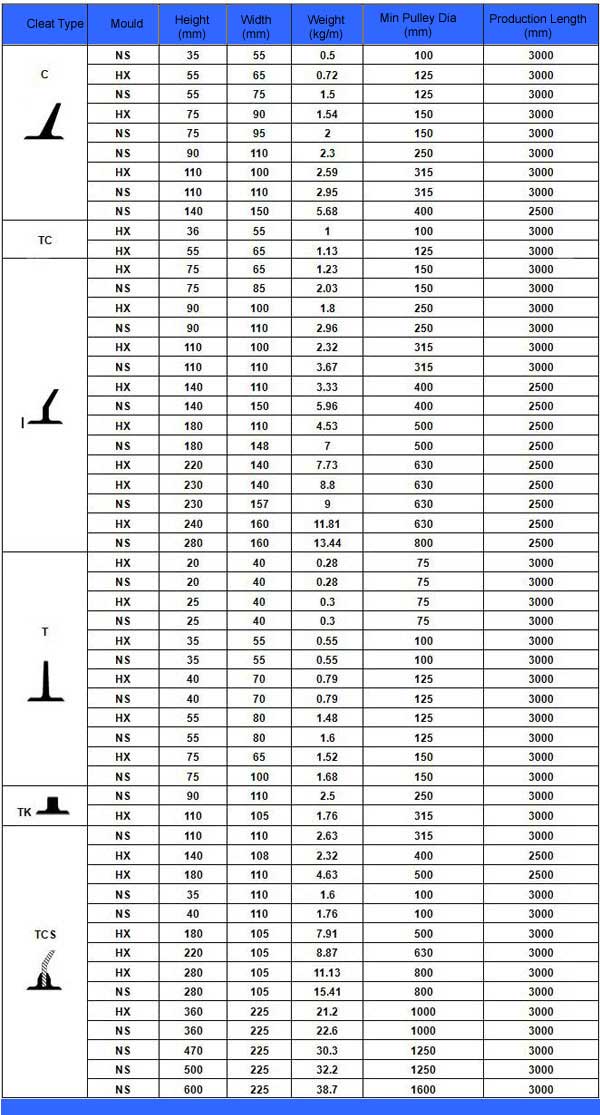 "HX" Domestic Specification
"NS" International Specification
Screw Reinforcement Between Sidewall And Cleat
Screw Reinforcement sets are available in a selection of sizes to suit specific cleat designs as follows:
Type 1 Cleat height 75mm
Type 2 Cleat height 90mm to 110mm
Type 3 Cleat height 110mm
Type 4 Cleat height 140mm to 180mm
Type 5 Cleat height 180mm to 230mm
Type 6 Cleat height 230mm to 280mm
Type 7 Cleat height 280mm to 600mm
Belt Handling
Apollo Conveyor Pvt. Ltd. leave the production line packed in such a way as to ensure safe transportation. It is essential that when offloading and unpacking the belt that the utmost care be taken not to damage the belt. The belt should be unpacked as the following sketches, it is most important that under NO CIRCUMSTANCES should a steel cable or rope be used to lift the belt either out of a crate of onto the conveyor.

Handling Of Steel Crates
When handling the steel crates it is important to always lift the crate from underneath by straps or by chains ,do not lift the crates at any other point as damage may result.
Storage Condition
Sidewall belt should be stored in a dry, away form direct sunlight in hot or humid environment of the premises, Drastic temperature change for long time can make the adverse effects on belting, The ideal storage environment for the temperature range is -5°C-30°C. It is easy to harden or curing the belt under long time exposure. After installation, there would be mis-tracking problem of belt with the influence of the overall use of belt application effects and life.